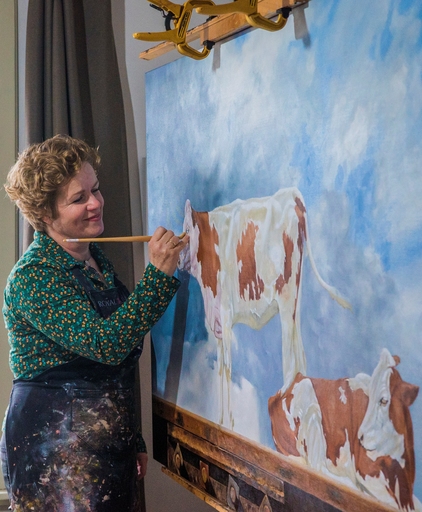 I love to do commissioned work. It is so much fun to make a painting fitting the customer need. For you as a potential customer it is very nice to be able to indicate what you do or do not wish to see on the painting: ear tags, collar, background colour, etc. I can advise you on that.
For portraying your favourite cow (or other animal), I make use of a good digital photograph. What makes a good photo? The most important things are light and resolution (sharpness). Shadows add depth and life to a portrait. A photograph taken on a cloudy day without contrast is not suitable. The eyes give character to the animal, so preferably they are also prominently depicted in the photo. You can always send me your photo to review it.
In case you do not have a good photograph, we can try to find a photographer who can do this. Almost all paintings on my website are based on photos by professional photographers. The costs of the photographer are not included.
The price of a painting depends on a number of things: the size and what you wish to have on the painting: one animal, several animals, only the head, also the body, etc. A commissioned painting starts at € 600. I can calculate an exact price as soon as I have a good idea of your needs (size, idea). The creation of an oil painting costs time; you have to consider at least 2 months. As soon as the order has been placed, you pay a deposit of 15%. Shipping is not included in the price.
Please have a look on my website for examples of commissioned paintings. I also have a nice Facebook page: www.facebook.com/koeienschilderij. Here you can read reviews of customer who bought or commissioned a painting. I also regularly show progress on the creation of my paintings.
Copyright (use of photos and reproduction) of all work retains with Tinka Schilperoort.
In case you wish to receive more information, please contact me.
Tinka Schilperoort